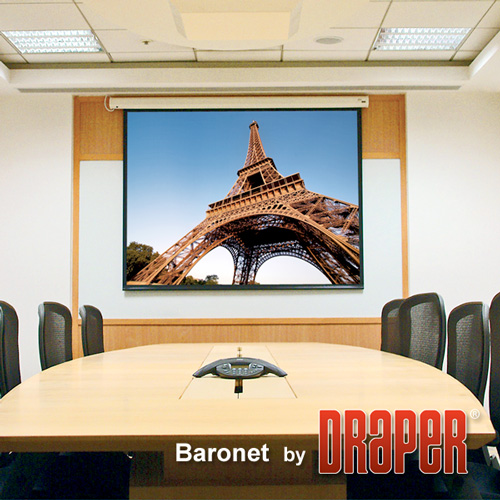 ---
The Baronet by Draper is a hard-wired motorised screen. The design of the Baronet is so simple no electrician will be required to help install this item. Just easily connect the motorised screen and plug it in! The Baronet offers an excellent, lower-cost alternative to other hard-wired motorised screens. The Baronet has an attractive case that fits in most handy spaces in and around the house or on the move. The screen comes with a quiet, trouble-free motor-in-roller making the Baronet a top choice for home improvements and projection needs! The Baronet's pentagonal-shaped steel case has a scratch-resistant white polyester finish. A Fibreglass Matte White fabric is the standard viewing surface for this product.
Baronet Catalogue
---
Benefits:
Now available in 16:10 and 15:9 laptop presentation formats
Low cost electric screen.
Screen with 3m power cord and in-line switch. 110V or 220V motor available.
Depending on surface, available in sizes through 244cm x 244cm or 96" x 96"
Custom sizes available.
These projection screens warranted for one year against defects in materials and workmanship.
---
Viewing surfaces available with this model are: