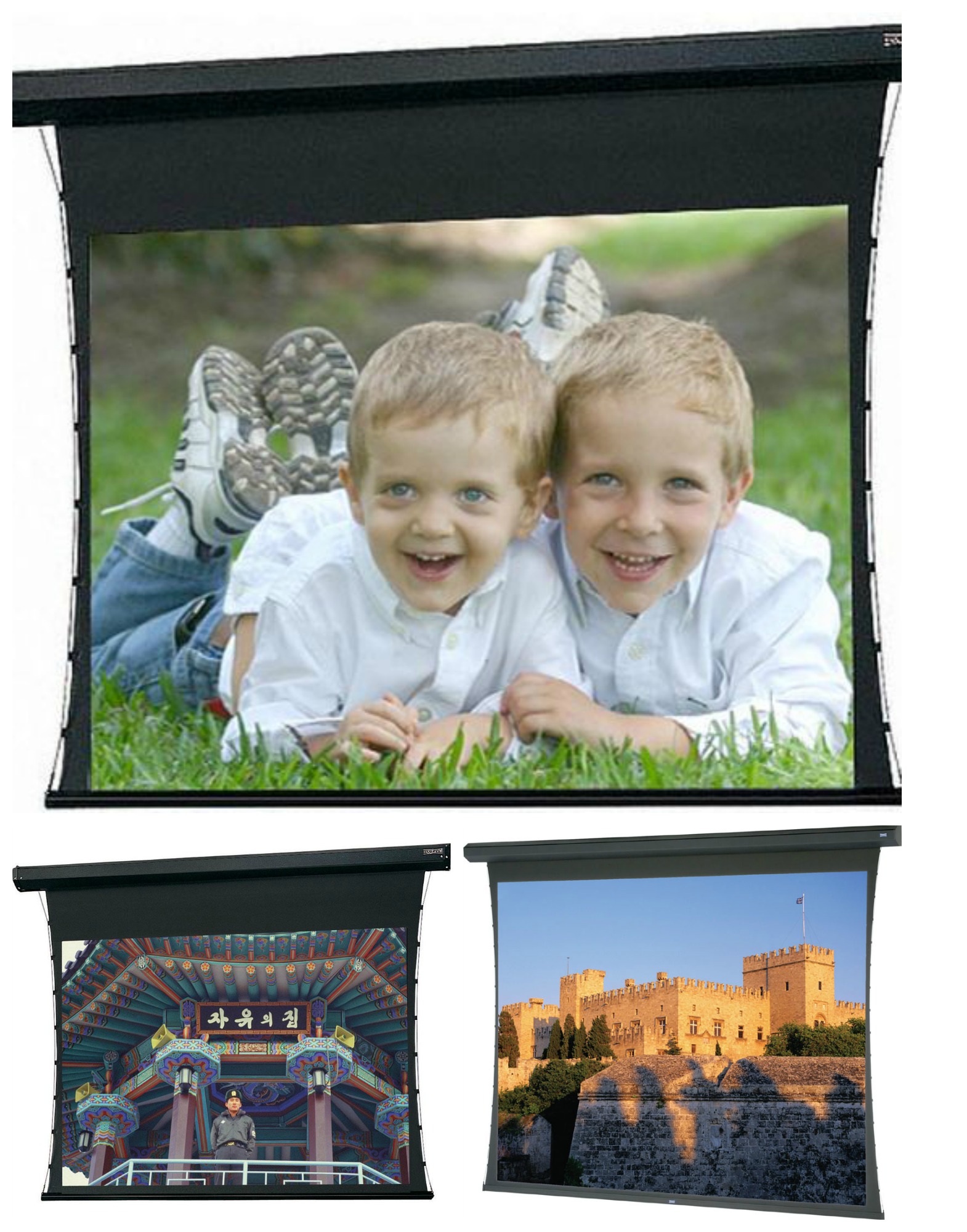 ---
**ADVISED TO CALL FOR DELIVERY DATES**
The Cosmopolitan Electrol Tensioned by Da-Lite is an electric tab tensioned screen. This product has the same great features as the Cosmopolitan Electrol except the screen is tensioned for an extra flat surface for optimum image quality when using data graphics. The screen surface fabrics are specially designed so they cannot wave or bend between the frames so the screen surface stays more tautly stretched and therefore producing more accurate pictures. The Cosmopolitan Electrol Tensioned is Ideal for applications where a recessed Installation is not desired or feasible. A patented in-the-roller motor mounting system is provided for a quiet operation and no-noise disturbances. The inclusive black textured case blends with any décor making this product a perfect investment for home or professional use.


---

The Cosmopolitan Electrol Tensioned comes with front projection surfaces and as a standard with inclusive black backing for opacity. Screen surface fabrics available with this model are Da-Mat, High Contrast Da-Mat, Pearlescent, Cinema Vision, and High Contrast Cinema Vision. The Cosmopolitan Electrol Tensioned comes with optional case covers, so your screen can fit in with any decor, whether at home or with professional use, the cases come in 7 different veneer options; Honey Maple, Light Oak and Medium Oak finishes come standard with white base and end caps. Cherry, Mahogany, Natural Walnut and Heritage Walnut cases covers come with black base and end caps.


Cosmopolitan Electrol Tensioned Catalogue
---
Benefits:
Comes with a 2-piece case (black powder coated) available in white or veneer upon request
Choice of 7 veneer finishes are also available (sold separately) for the front cover of the screen case for a warm, elegant look
Front projection surfaces standard with black backing for opacity
Comes with a high voltage Decora style 3-position wall switch for controlling the screen operation
GREENGUARD and GREENGUARD Children and Schools certified
In-the-roller motor mounting system
Smooth Roll Technology to keep your screen perfectly flat
Tensioning Cable System to prevent warping and ensure even lateral tension
Standard black backing retains projected brightness on front projection surfaces
Optional floating mounting bracket allows screen to be mounted onto wall or ceiling studs and aligned left or right after installation (veneer can be added to bracket to match case)
Available with built-in low voltage control, or Video Projector Interface (screen trigger) or silent motor or low voltage control with silent motor
A ceiling trim kit is available that enables this screen to be easily recessed into a drop ceiling
Slim-Tab, a lower profile, stronger tab design to keep your screen perfectly taut
---
Formats Available:
| | | | |
| --- | --- | --- | --- |
| Format 1/1 | Format 4/3 | Format 16/9 | Format 16/10 |
---
Viewing surfaces available with this model are:
Da-Mat
High Contrast Da-Mat
Pearlescent
Cinema Vision
High Contrast Cinema Vision
High Contrast Cinema Perf
HD Progressive 1.1 Perf
Audio Vision
High Contrast Audio Vision
Dual Vision
Da-Tex

Gain 1.0
Gain 0.8
Gain 1.5
Gain 1.3
Gain 1.1
Gain 1.1
Gain 1.1
Gain 1.0
Gain 0.8
Gain 0.9
Gain 1.3


---