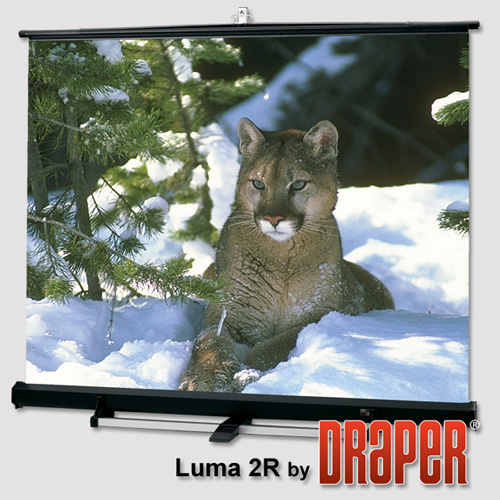 ---
The Luma 2R by Draper is the largest of floor mounted portable screens. This product is constructed of heavy gauge components for years of consistent dependable operation. The Luma 2R is a large, portable spring-roller operated projection screen. This screen is a simple and practical choice wherever a large, portable spring-roller screen is required. The design is simplistic with a rugged construction and is housed in a steel case finished Black in colour with matching end caps. Custom sizes and additional items are available with this product. The Luma 2R is a fantastic product that can be used for business, educational and personal use.
---
Benefits:
Depending on surface, available in sizes through 12' x 12' and 15' NTSC.
Custom sizes available.
Warranted for one year against defects in materials and workmanship.
Optional Adjustable Floor Stand: Part No. 212001 (Sold Separately)
Adjustable Floor Stand is made of heavy gauge steel and anodized aluminum.
The Floor Stand supports the Luma 2/R in an inverted position at floor level.
Telescoping upright, the Floor Stand holds top of viewing surface when extended (maximum of 12').
Floor Stand assembles easily without tools.
No Floor Stand component is longer than 6'.
---
Viewing surfaces available with this model are:
---