Rear Projection Surface Only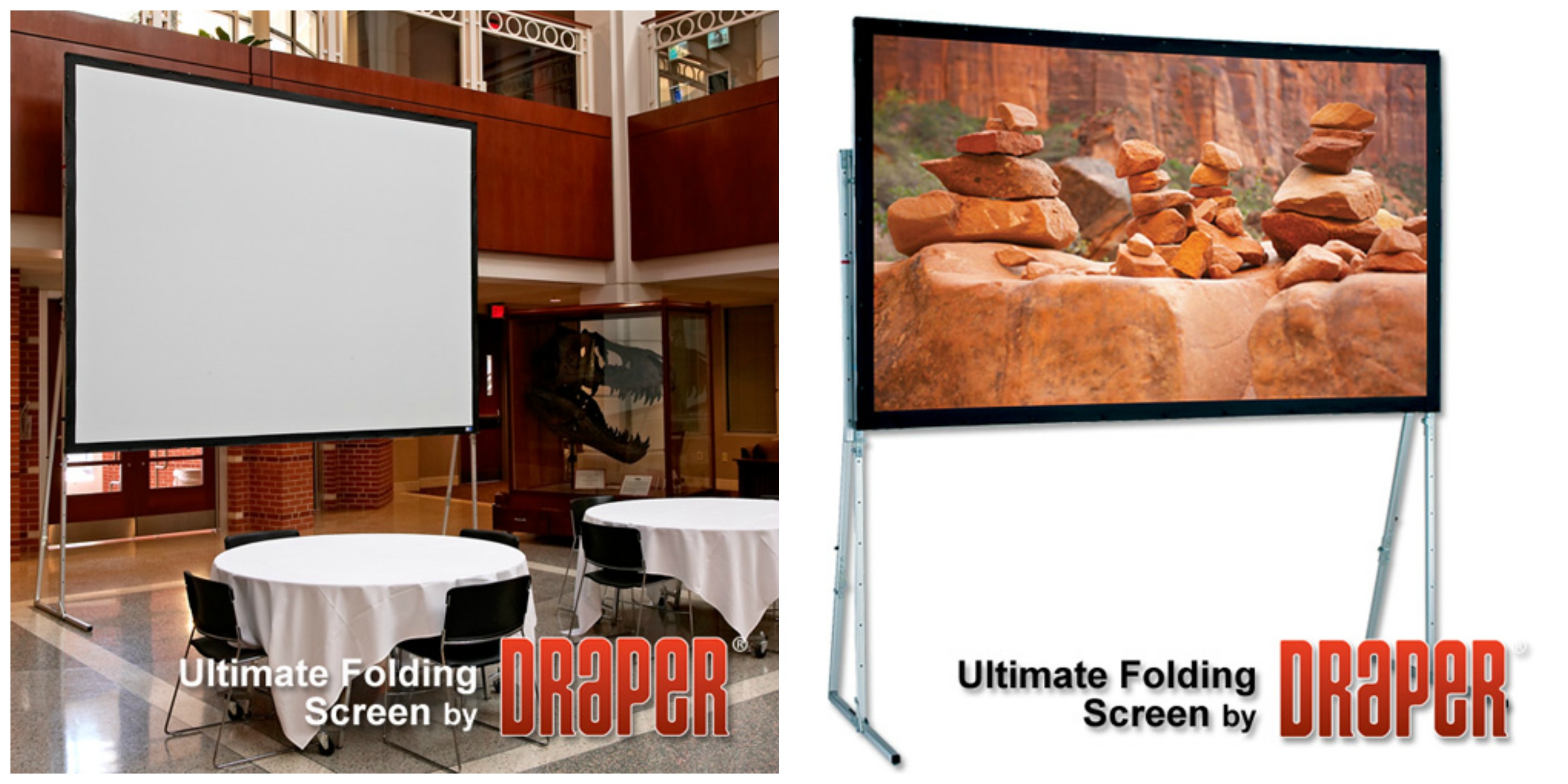 ---
**ADVISED TO CALL FOR DELIVERY DATES**
The Ultimate Folding Screen by Draper's is the standard for portable folding screens. The Ultimate Folding Screen is the first screen manufactured with 100% CNC (Computer Numerical Controlled) components and assembly. The tubing is CNC machined; surfaces and borders are CNC cut; even the rivet and snap holes are CNC placed. No competitive product meets the high quality standard provided by the Ultimate Folding screen. This product incorporates the "Lock & Load" snap together system for easy assembly and maximum life. The Ultimate Folding screen is a light weight and highly practical folding screen great for on the move or where a fixed screen isn't necessary. The complete system includes surface, legs, frame and wheeled and an optional carry case.


Ultimate Folding Screen Catalogue
---
The standard fabric used on this screen is a Cineflex Rear Projection Grey Opaque surface with a Gain of 1.3. Front Projection Matte White fabrics are also available with this product. Other fabrics can be made available on request.

Viewing surfaces available with this model are:
Matt White XT1000V
Pure White XT1300V
CineFlex CH1200V
CineFlex White XT600V
CineFlex MH800V
---
Benefits:
All surfaces—front and rear—have square corners.
Borders are electronically welded using a new PVC material that provides straighter, cleaner edges.
Standard Legs support the Ultimate Folding Screen in a vertical position.
Legs can adjust in 6" (152mm) increments up to 48" (123cm) from the floor
The Ultimate Folding Screen comes packed in Draper's heavy-duty, polyethylene-mold wheeled carrying case.
Warranted for one year against defects in materials and workmanship.
---
Available Options:
Anti-Sway Stabilizer
Hinge Stiffener - Strengthens horizontal hinge joints
Dress kit including skirt, valance, two side drapes all in rich velour. Standard is black , optional rich navy available at extra cost. Please contact us for pricing and availability.
Heavy-Duty Legs - Recommended for UFS in frame heights above 7'6" (229cm) – Please see related products
Extra Heavy-Duty Legs - Recommended for UFS in frame heights above 10'6" (320cm) – Please see related products
Adjustable Skirt Bar - Quickly adjusts to any height for skirt attachment where you want it