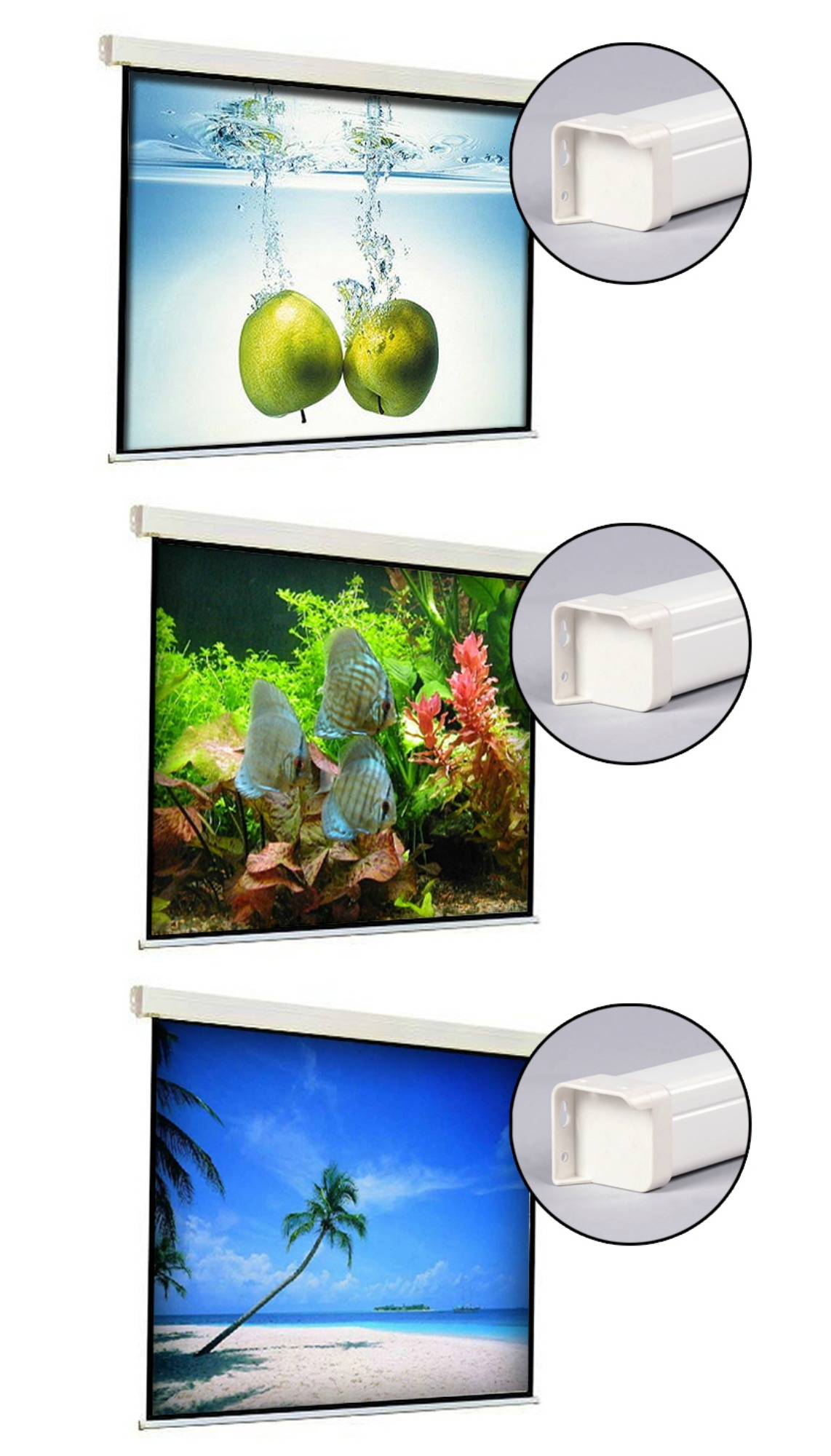 ---
The Rollerwall by Screen Labs is manual projection screen. This product is part of the new robust design projector screens from Screen Labs. The Rollerwall has a Fibre Glass Matte White Surface with a gain of 1.0. This product is handsomely housed within a "new design" Matte White shaped steel case which can blend with any décor for Home or Professional use. Four mounting points are provided on each end cap ensure the screen can be firmly fixed to the wall or ceiling.This product has a simplistic design making it very easy to roll up and store away when not in use.This screen comes with a new robust design which has 30mm black borders on all sides.

Rollerwall Catalogue

---
The Rollerwall is a great value for money, and can conveiniantly be wall or ceiling mounted for your conveinance making this the perfect investment for home, educational, business or professional use! This projection screen features a 250mm additional Black Leader on 16/9 and 16/10 formats. This product comes complete with a fixed point L-plate fixing system that includes four mounting points on each endcap for both the ceiling or wall installation is basic and user friendly, ensuring a long-term screen reliability providing a consistent flat projection surface for the best viewing experience possible. The fitting of this product is suitable for any flat surfaces.
---
Benefits:
Includes fixed point L-Plate fitting system
Installation is suitable for any flat surfaces, the screens are suitable for boardrooms, classrooms, entertainment venues, outdoor venues, pub, club and bar venues and home entertainment use
Spring-roller operated, ensures long-term screen integrity providing a consistent flat projection surface
Includes 30mm black borders to all sides
To release just tug down and guide the screen back up to the top until it is fully retracted. This will then prevent damage to your projector screen and help to prevent V-waves from forming on the screens fabric.
You find the joist on the ceiling or any appropriate fixing on the wall and then fix both of the hanging brackets
Then offer up the casing making sure the plastic clips on the brackets are in the open (down) position. The bracket should be inserted under the front profile first and then you push the back end in until it clicks into place
At this stage all you need to do is to ensure the screen is aligned with the projector correctly and then tighten the black screw to ensure that pulling the plastic release cannot result in the screen coming off the brackets
---
Viewing surfaces available with this product: